Here is what others say about our handmade Moose Mitts.
Look, we could tell you how great the Moose Mitts are and why they are better than other brands. You know the third world country companies making cheaper knock offs or charging you way too much for their band name. But we prefer to let our reputation for quality, function, and price to do our talking.

Here are just some direct feedback from past customers. What better resource for how these work then hearing back from people using them all around the world and different conditions and for different uses.
"Moose Mitts Road Version 1.0 arrived this past Thursday or Friday. We used them Sat., 26F high, cross bikes on pavement and gravel (mostly gravel) 3.5 hours and all we wore were light Smartwool liners. GREAT JOB! Thanks for coming up with the design and production. They definitely will give us another bike choice this winter.
Marshall "
"Just wanted to drop you a note to let you know I received my order. Your moose mittens are awesome! I don't know how I got by without them.
Brandon"
"I've been using the pogies since the holidays now, and I'm loving them. Where normally my fingers would be cold after a ride, they are now toasty warm. A ride in -1C with heavy rain proved to be no problem at all. They trully are amazing!
Ben "
"I just wanted to give you guys a shout out. I bought a pair of Moose Mitts quite a few years ago but never ended up using them (my so called tough buddies refused to winter mountain bike).
Fast forward to today and I threw them on an old MTB to try to extend my hill repeat season (I live in Toronto and it is minus 10 today). The hill I train on is over 2 km's long and I get up to around 70 km/h on the descent so you can imagine the wind chill. Well, after 8 repeats my hands were so warm I was taking my hands out to cool them at the start of each climb. It may have taken a few years to appreciate them, but my Moose Mitts may be one of the best cycling related purchases I have ever made. Well done guys."
Bob B.
"Got my Moose Mitts a few months ago. Just now got a chance to thank you for the quality product. I now have found my "solution" for winter riding. I love being able to wear thinner, lighter gloves and can switch to larger gloves if necessary. The material is very windproof. I will tell everyone I can when they ask what they are and where I got them. I love buying a quality made product! Thanks for your excellent product and service.
Jeff "
Hey I just wanted to let you know I received my mitts yesterday and then went for a ride. It was 35°f here in Wisconsin and they worked wonderfully. Couldn't have been happier with the materials and the craftsmanship. Thanks for a great product. Looking forward to getting some nice warm rides out of them.
Jared"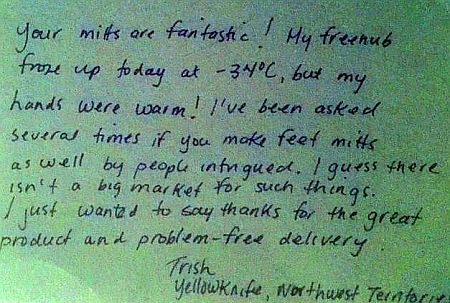 Thanks for the mitts! I love them. The stripe version is perfect because the orange section is much broader than I expected. They work really well and the soft interior is the best!
Exactly what I was looking for and well worth the investment.
Thanks again,
Dave
Copyright Moose Mitts LLC 2016